Kitchen refurbishment in Elda
When designing a kitchen, we do not always have all the space and natural lighting that we would like to, however, it is posssible to obtain a wide and luminous space for cooking by playing with the distribution of the furniture, the finishes, and with the colour range.
For this kitchen located in Elda, we sought for the maximum delicacy in the finishes. All the details were carefully executed to obtain a comfortable and usable kitchen with a minimalistic design.
Project details
Client: Particular
Location: Elda, Alicante, Spain
Project type: Kitchen refurbishment
Intervention area: 12 m²
Phase: Finished

¿Que quieres ver de este proyecto?
Space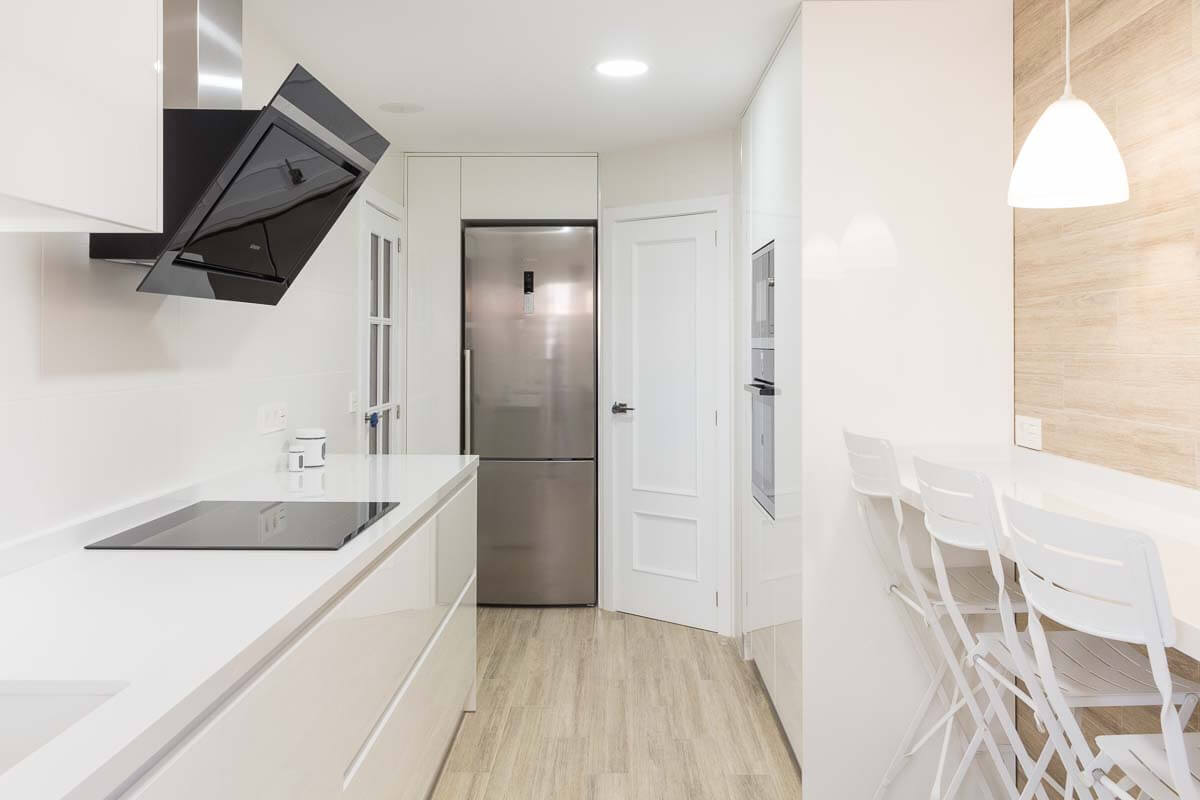 To distribute the kitchen, all the functional elements were placed on the perimeter of the room.  La distribución general para la reforma de cocina se diseñó llevando los elementos funcionales al perímetro de la habitación. In this way, a wide passage is created from the entrance to the laundry area, so while one person cooks, another one can move within the kitchen without interrupting each other.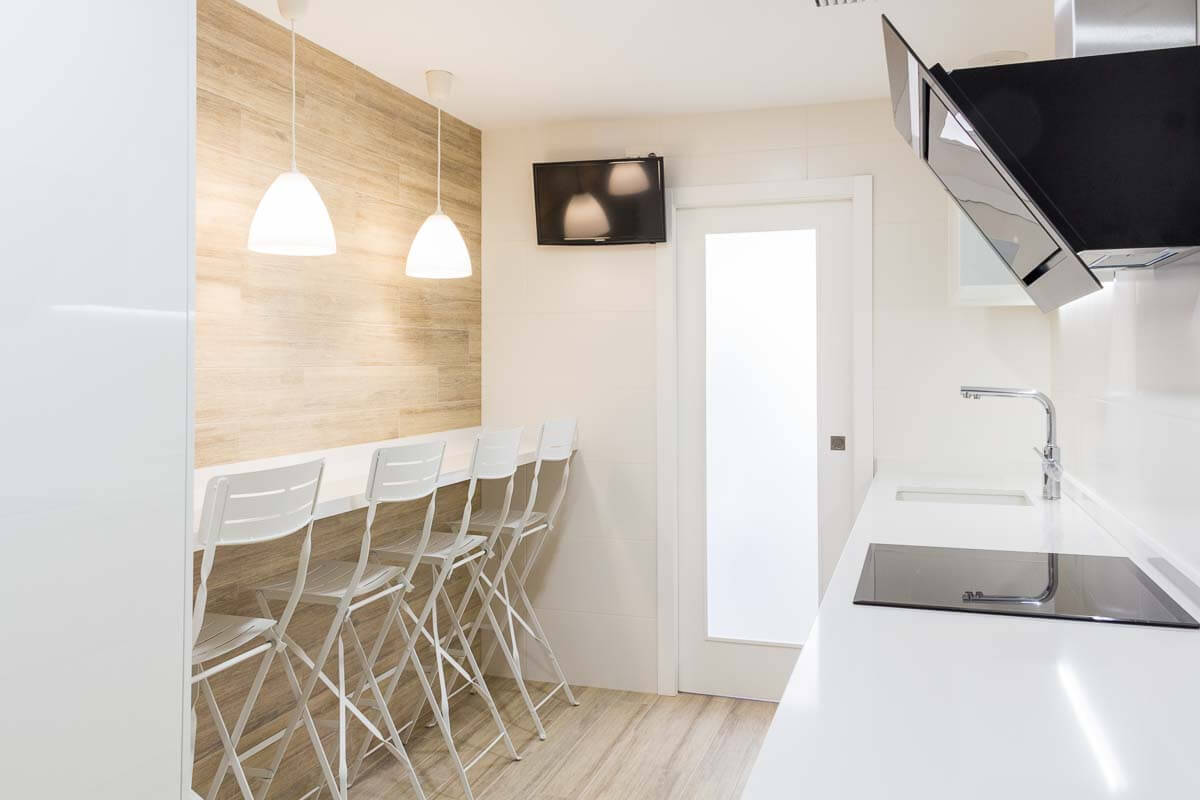 A sliding door built into the wall was placed to access the laundry room.  The door was lacquered in white to match with the kitchen furniture and was equipped with a large glass to allow the entrance of natural lighting.
Details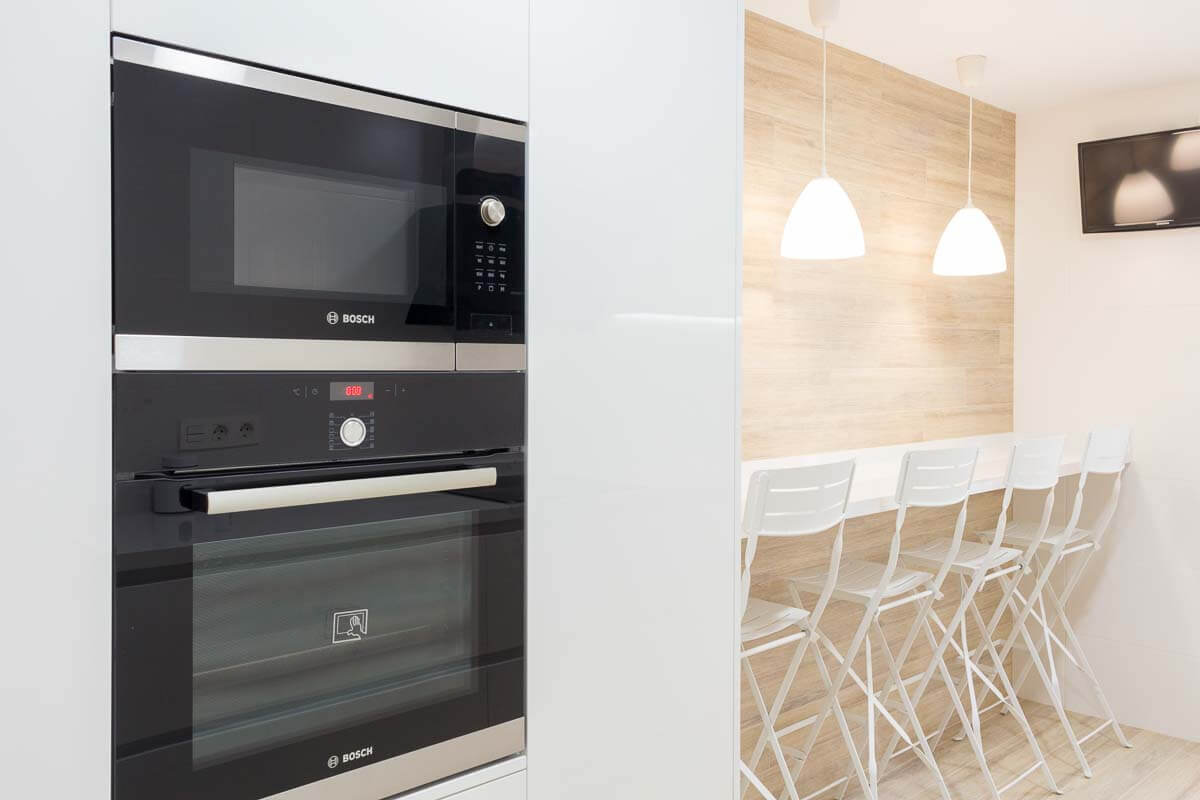 The furniture was chosen with high-gloss white lacquered doors. Integrated handles were placed for the drawers and push openers for the high cabinets. In this way, none of the handlers are visible and the result is a simple and elegant kitchen.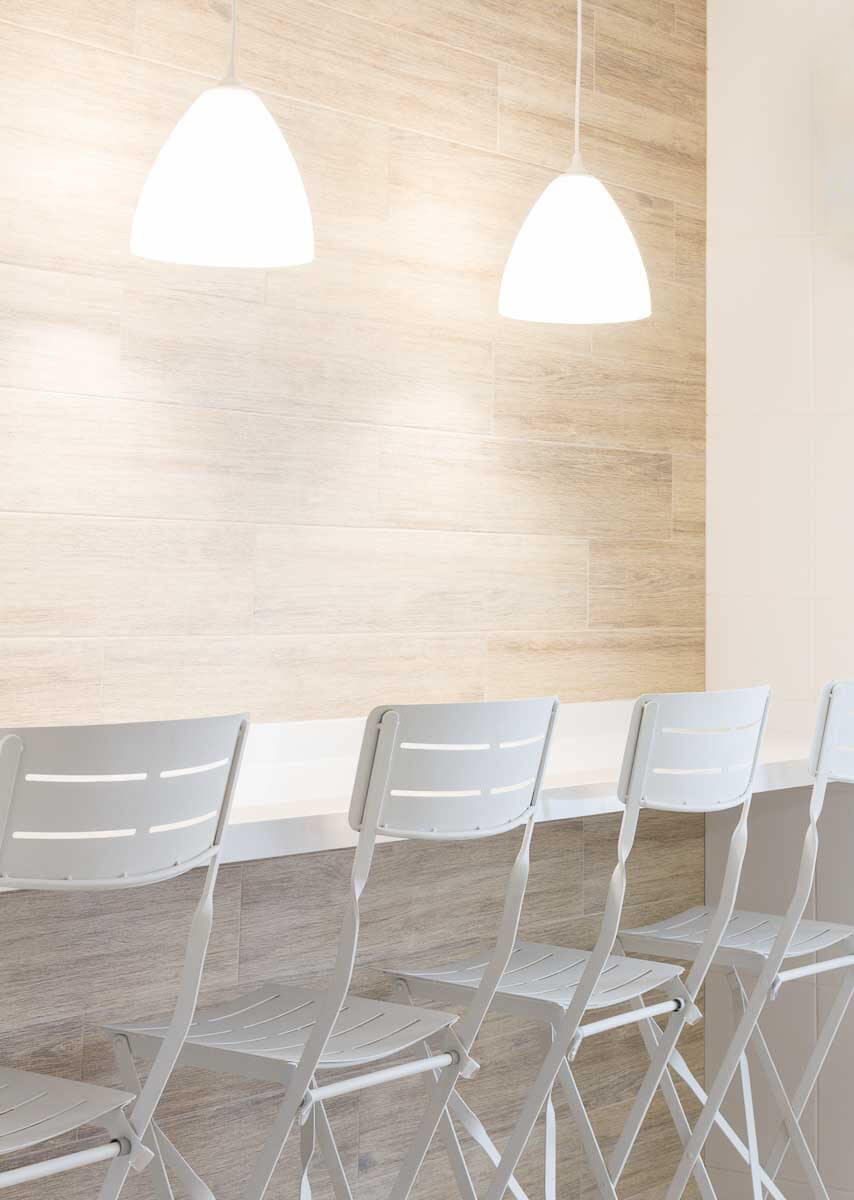 A small area was left  to place a suspended bar as a dinning table. This space is distinguished from the set by the wall tiling in wood-like porcelain, the same used for the flooring. This detail breaks the homogeneity of the composition and gives it a touch of color.
Both the kitchen countertop and the suspended bar are made of pure white quartz. The sink was placed under the countertop with a carved drainer. The soft joints of the stone gives a solid aspect to the countertop.
Interior fittings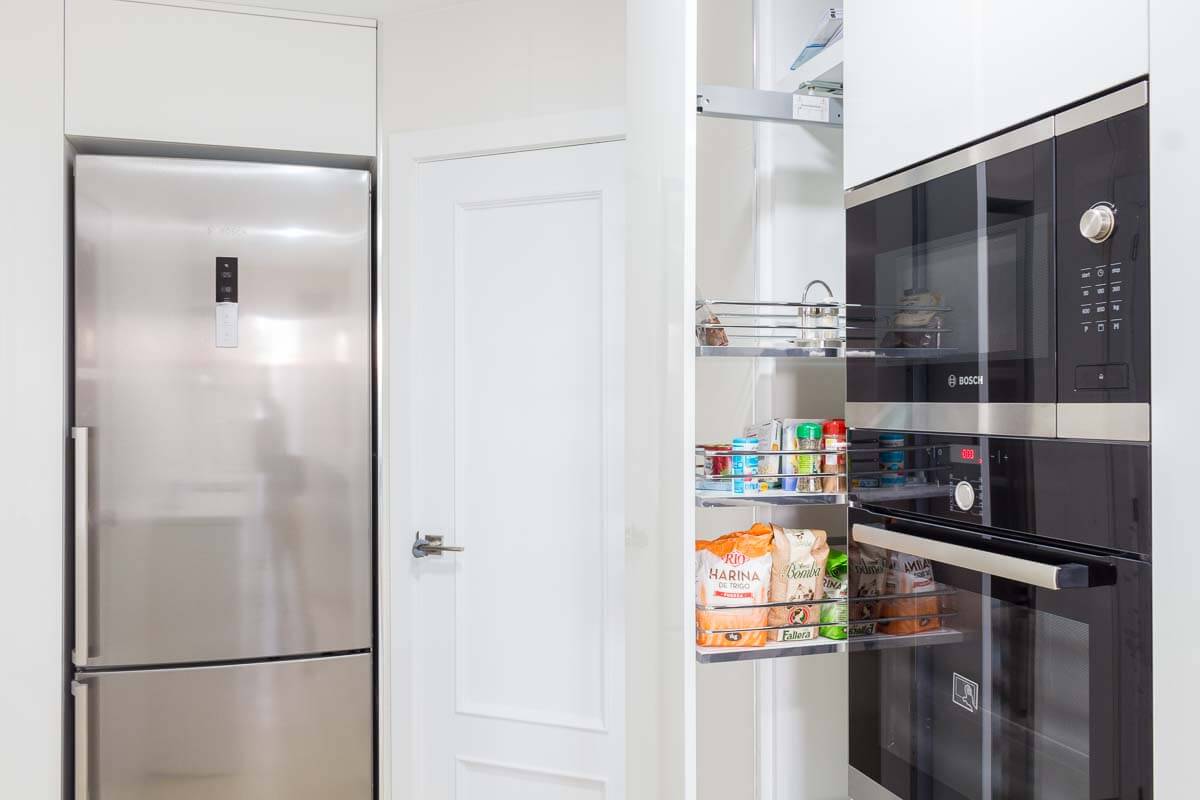 By integrating a pull-out fitting it was possible to transform a difficult and unused space into a narrow pull-out cabinet.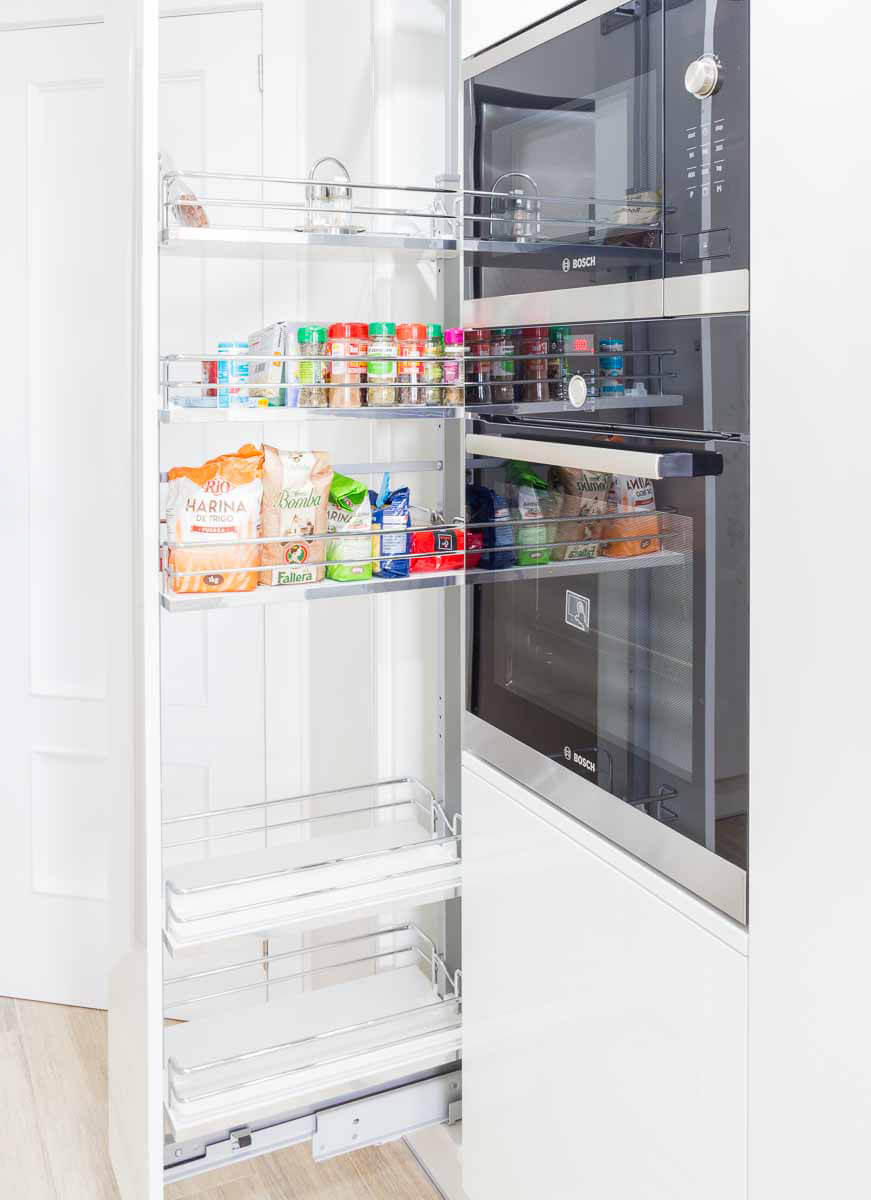 In any kitchen refurbishment we always use high-quality fittings with cushioned closing. This guarantees a comfortable usage and the maximum durability of the furniture.
Keep browsing our website to see more examples of kitchen and houses refurbishment, as well as our featured projects.
Would you like a new kitchen?