Mediterranean-style single family house in Orihuela (Alicante)
In a few weeks we will begin the construction of a single-family house that we have been planning for months, remotely, with a couple from Belgium.
From the first contact they had with us they had very clear ideas about the typology of their house and where to locate it. We managed everything to bring their ideas to reality without having them to worry about the process.
Project details
Client: Particular
Location: Barbarroja, Orihuela, Alicante, Spain
Project type: Mediterranean style single-family house
Intervention area: 140 m²
Phase: Execution project
Location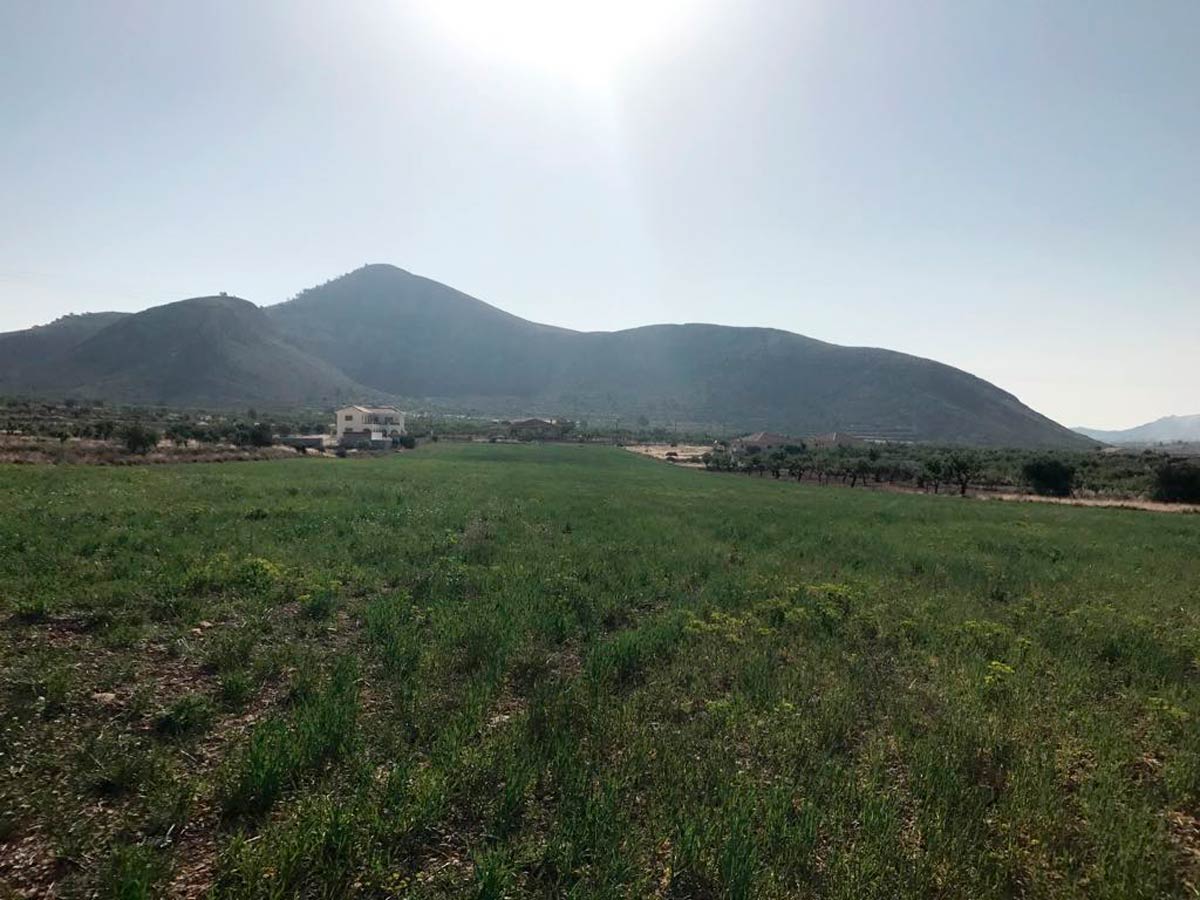 The house will be set in a wide plot of more than 18,000 m2 with a completely flat topography and located between olive groves. The main idea of ​​the project is to orient the house so the views of these olive fields are fully enjoyed.
Design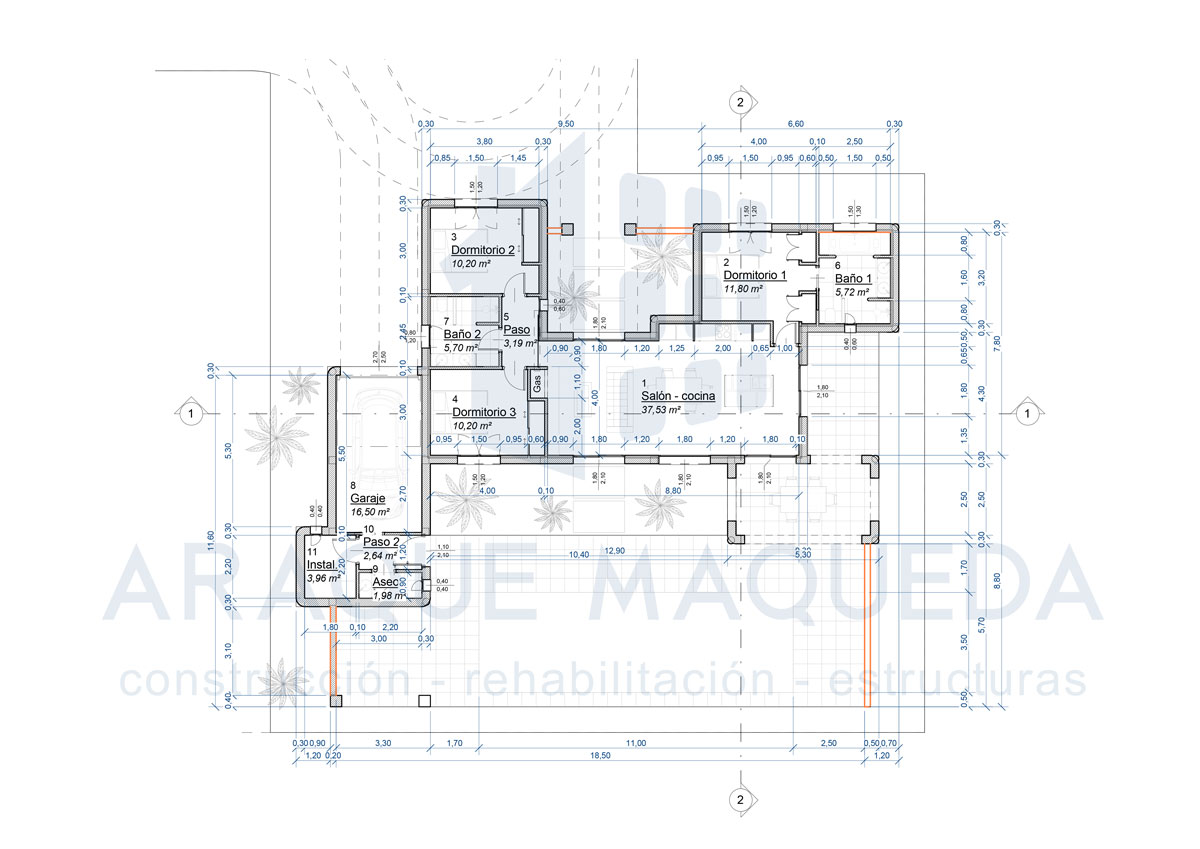 After studying the accesses, the possible electrical and water connections, and the urban planning regulations for the plot, we decided to set a location for the house that allowed to travel around the land in every visit, framing one of the adjacent olive groves.
Access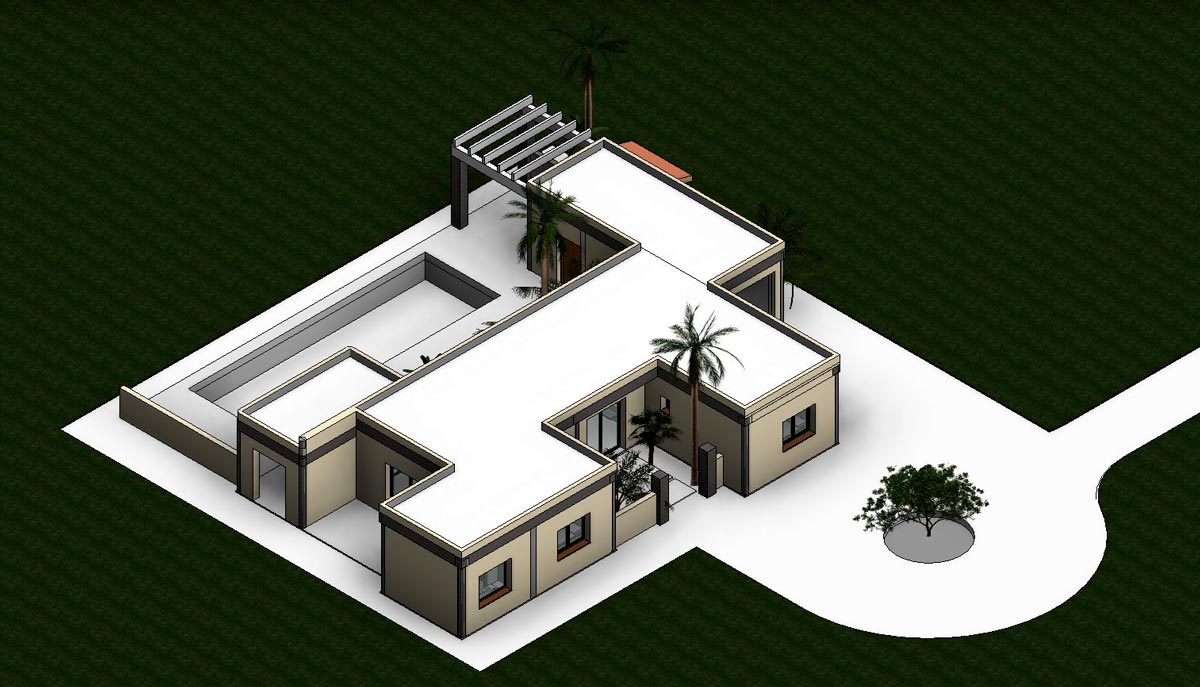 This 3D model shows the access to the house. The configuration chosen avoids a direct approaching, so the access is done through a backyard to give more privacy to the main courtyard.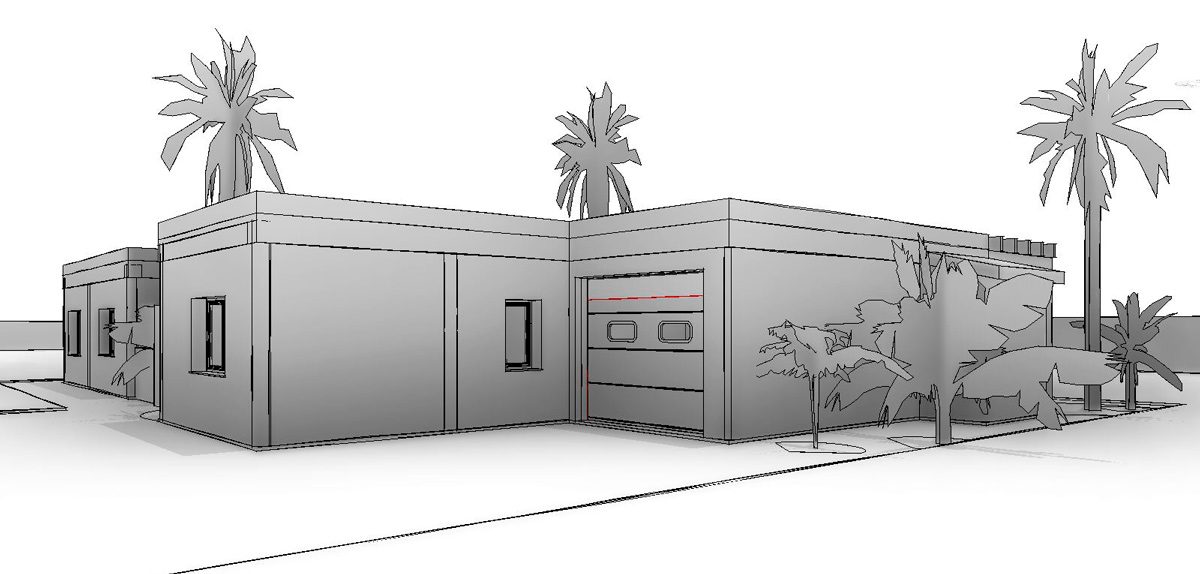 In this phase of the project the exterior walls coatings have not yet been defined, but it is clear that the access to the garage must be done discreetly. In this way, only the several pieces that make up the exterior volume are perceived and the wide private space for the main courtyard is hidden.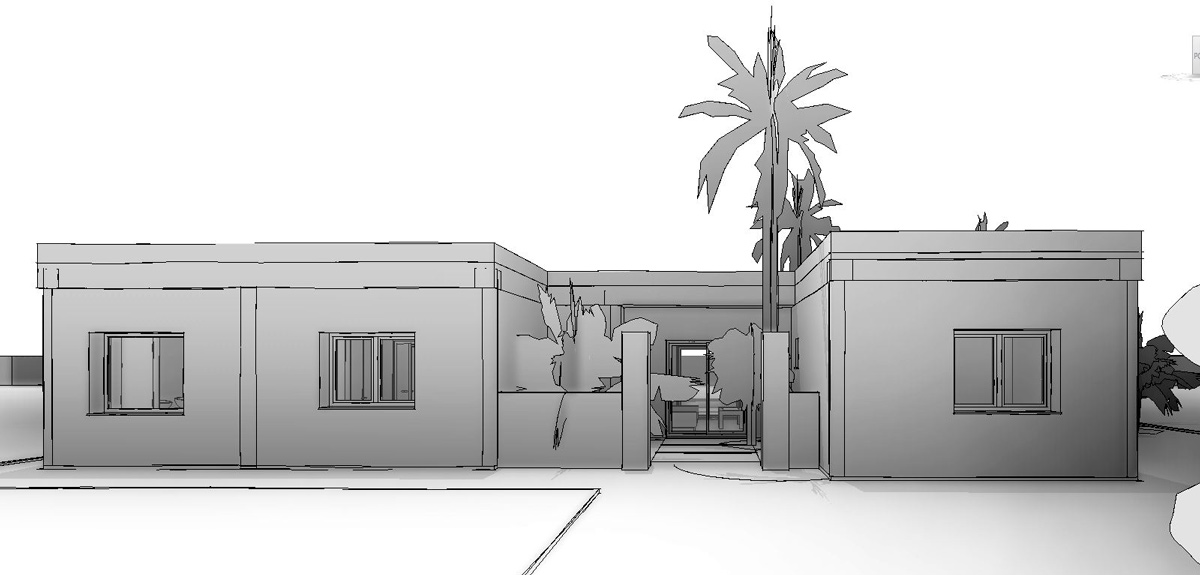 Once the access to the house has been defined, the arrangement of the spaces follows the traditional architecture of the area, which allows entering the house through a sequence of spaces used as filters: an access roundabout, a backyard, a main open space, and the front yard as the end of the tour.
Private area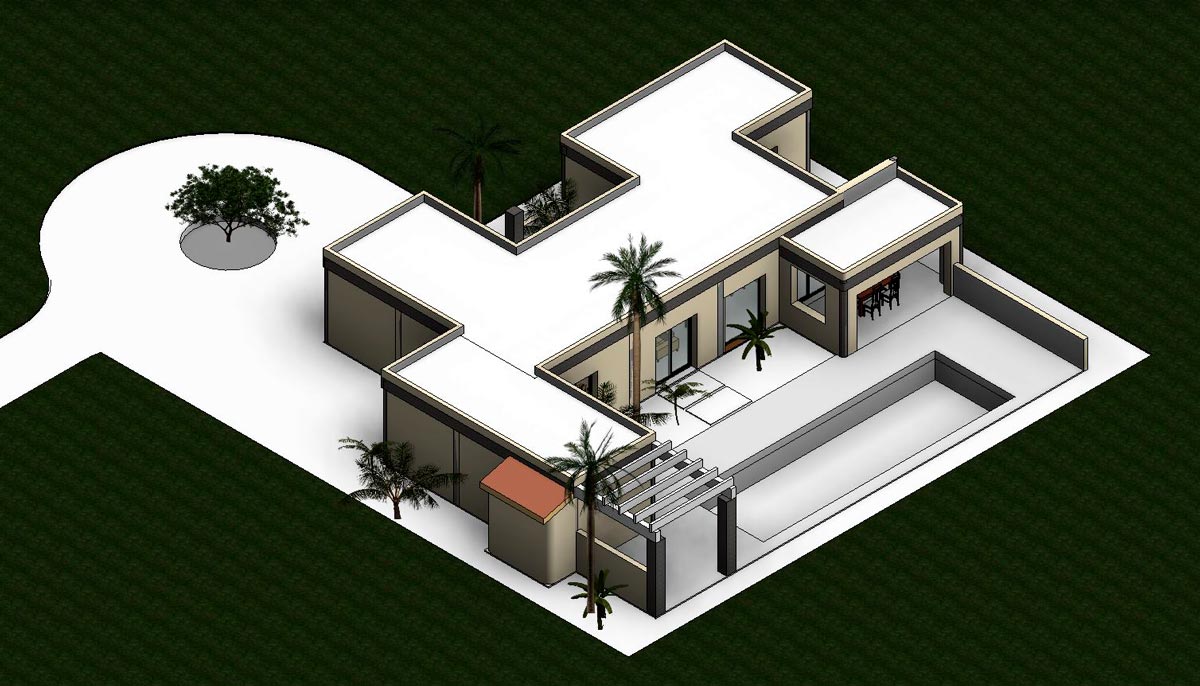 The main patio is delimited by two independent volumes: the garage and the porch. In this way, the views from the house are framed towards the landscape formed by the olive trees, as our clients dreamed of, and a small annex volume is destined to the utility room.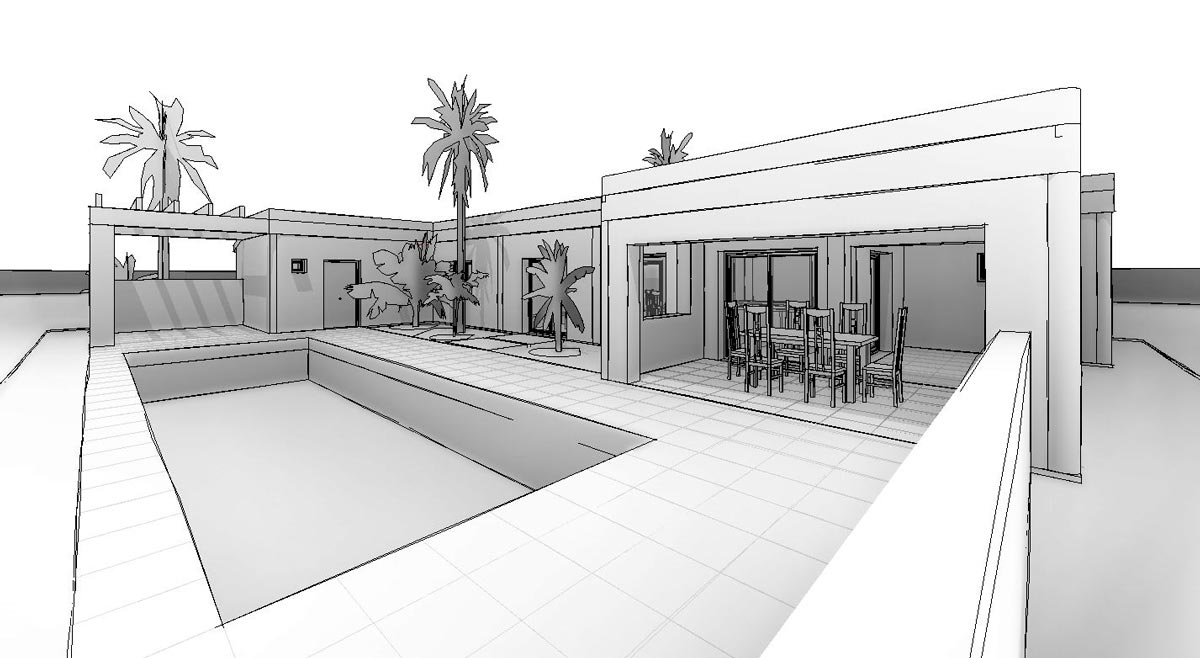 This 3D view shows an idea of ​​the private space resulting from the distribution chosen: a front patio with pool delimited by two porches made with traditional elements, one of them covered to serve as an extension of the interior dining room, and the other open to serve as a wooden pergola for outdoor activities.
We are currently processing the license to start with the construction works. Soon we will be publishing the construction process step by step and we will describe how we solve each of the most outstanding construction elements.
Would you like to build a detached house?