Work for architectural revitalization
The passage of time does not spare anyone, and architecture is not going to be less. For the same reason, bringing life back to an old property is always a challenge, basing ourselves on its traditional roots and extrapolating it to contemporary times. Since the demand for housing and its interior spaces was perceived in a totally different way compared to years ago.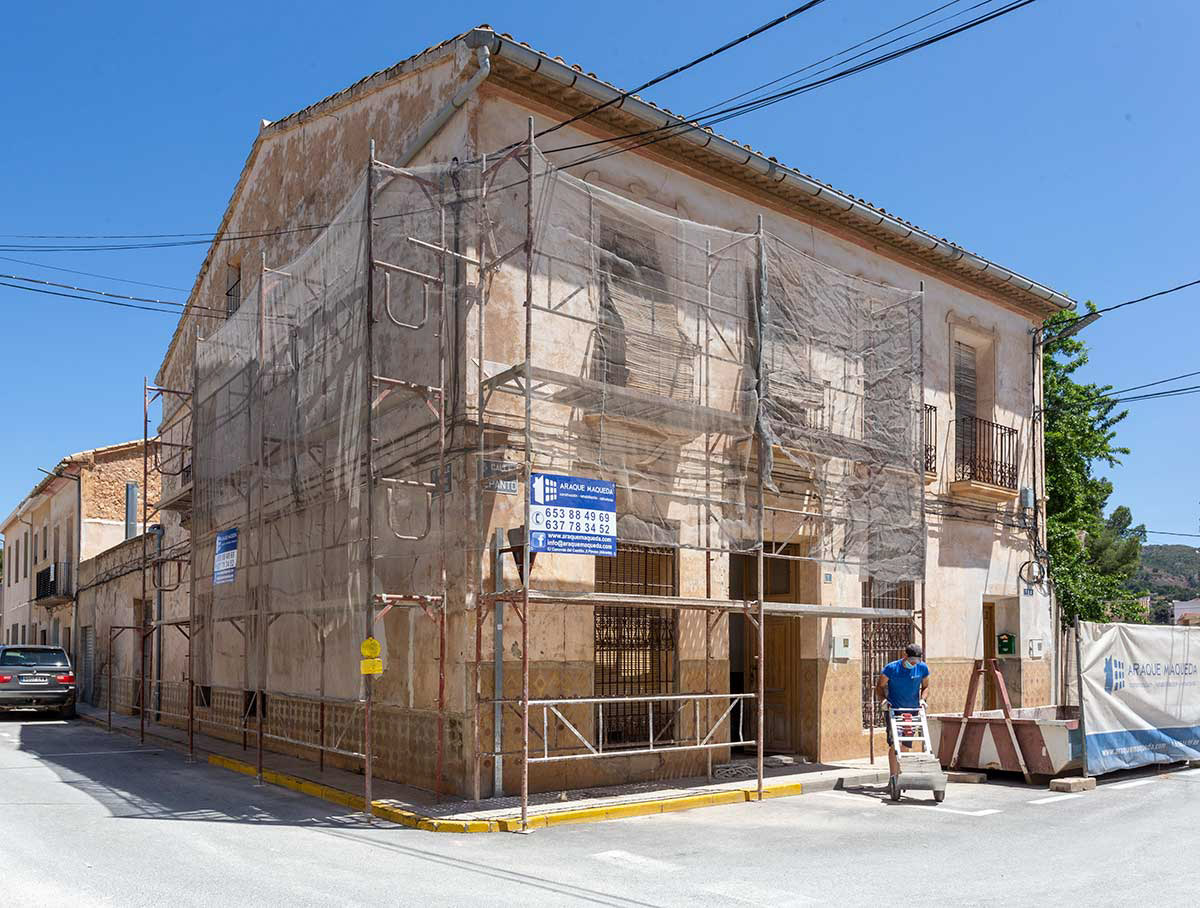 In the previous inspection of the property you can see the entrance hall, the rustic materials and the characteristic finishes of the 90s, highly partitioned spaces with little natural lighting.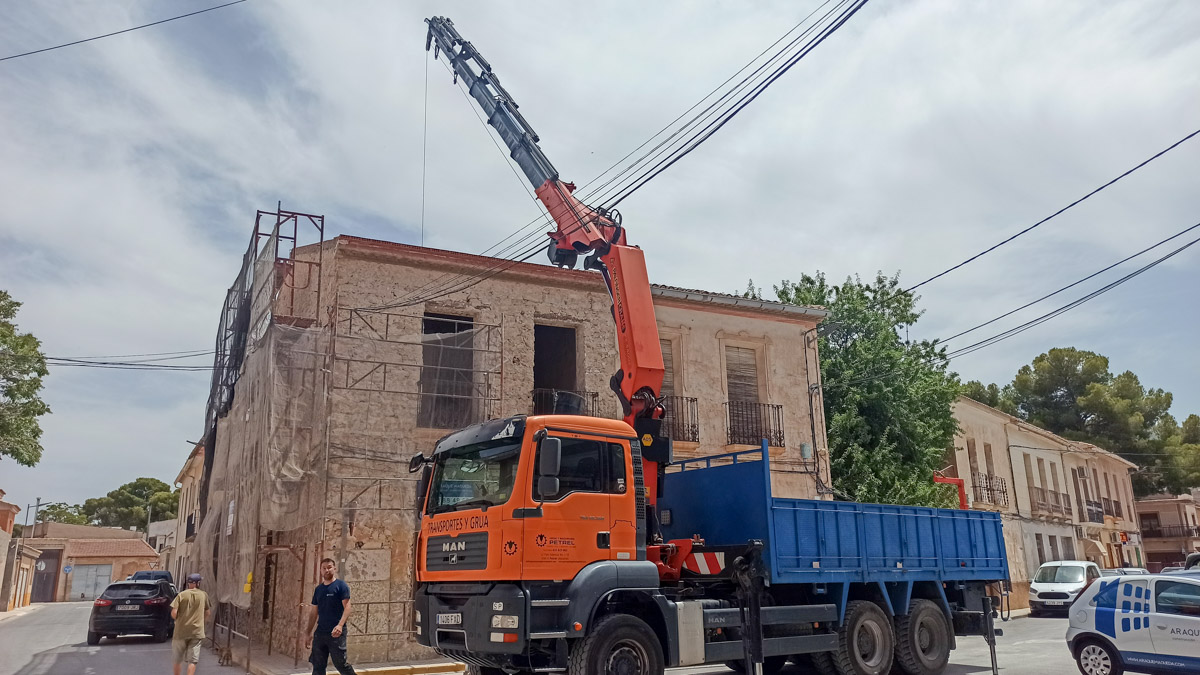 The reinforcement phase of the building was carried out carefully so as not to affect its structural stability, the work was carried out from the outside with a boom truck.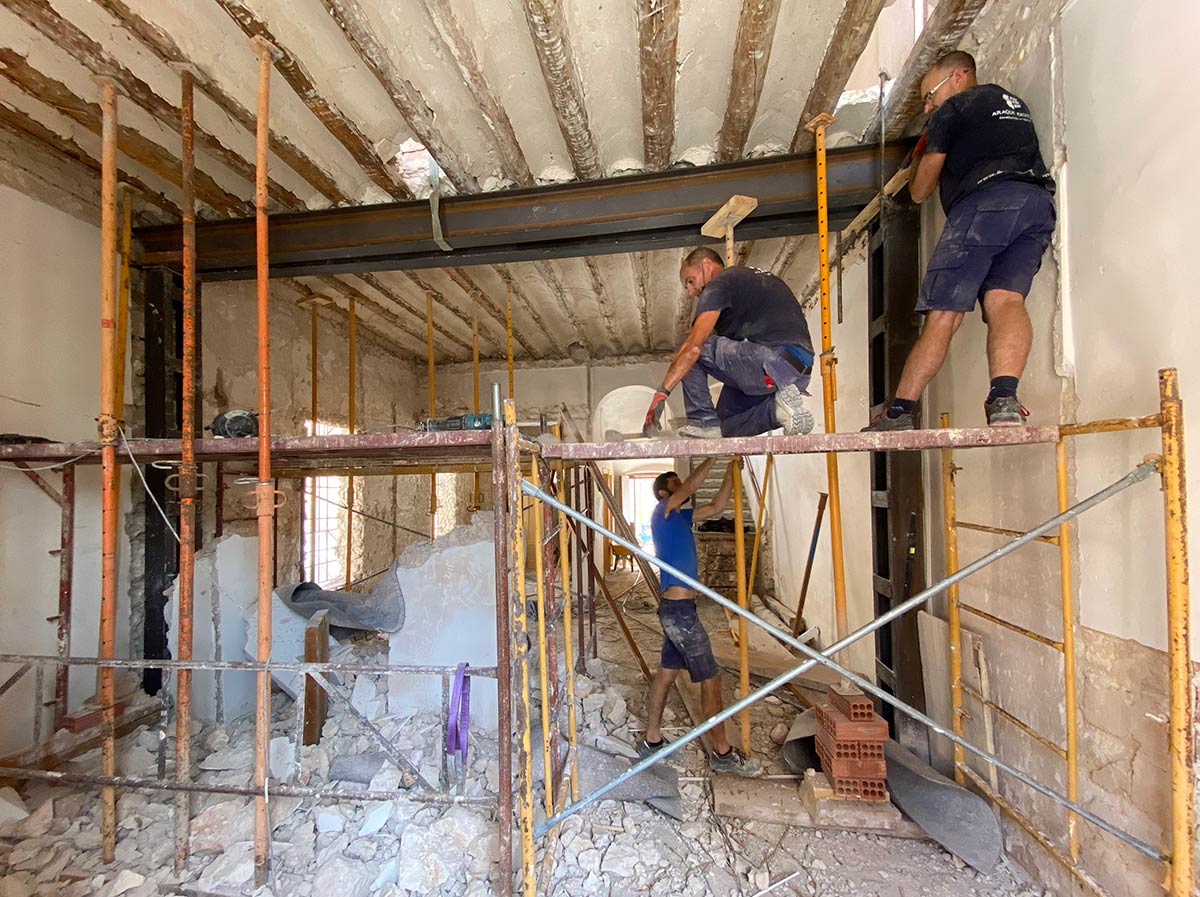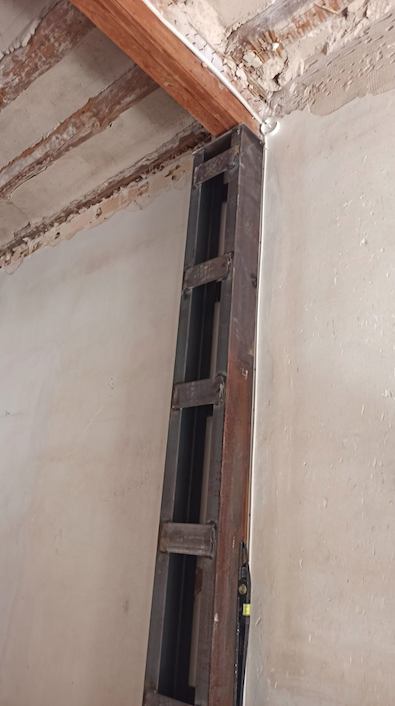 To take advantage of and achieve the maximum spatiality of the ground floor, all the pillars and existing partitions are eliminated. Subsequently, the slab is reinforced by placing a metal frame that guarantees structural stability.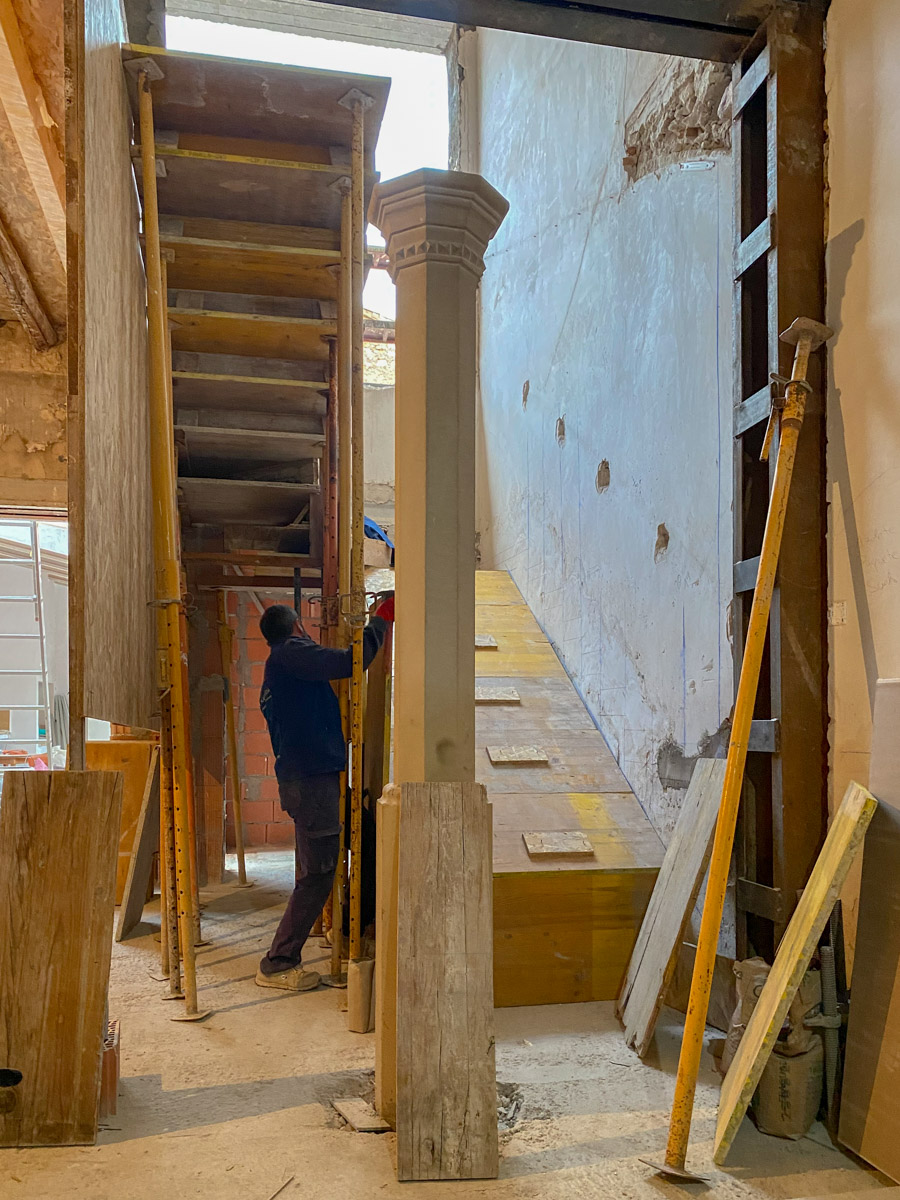 Despite seeking a more contemporary style, in the project phase traditional architectural elements that existed in the house are maintained. Objective of keeping the past memory in the architectural present.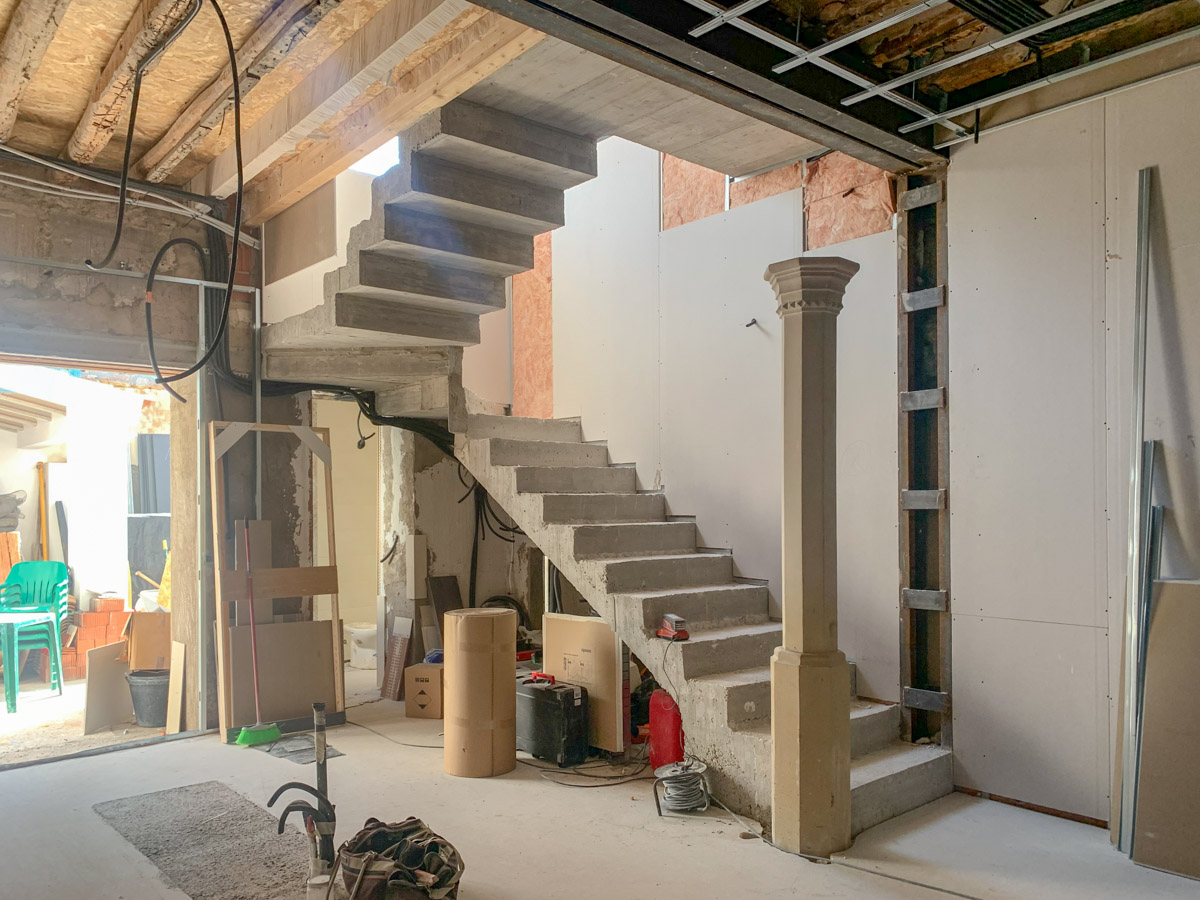 The cantilevered stair slab with two sections begins at the foot of the architectural column that marks its volumetry and integration with the stair.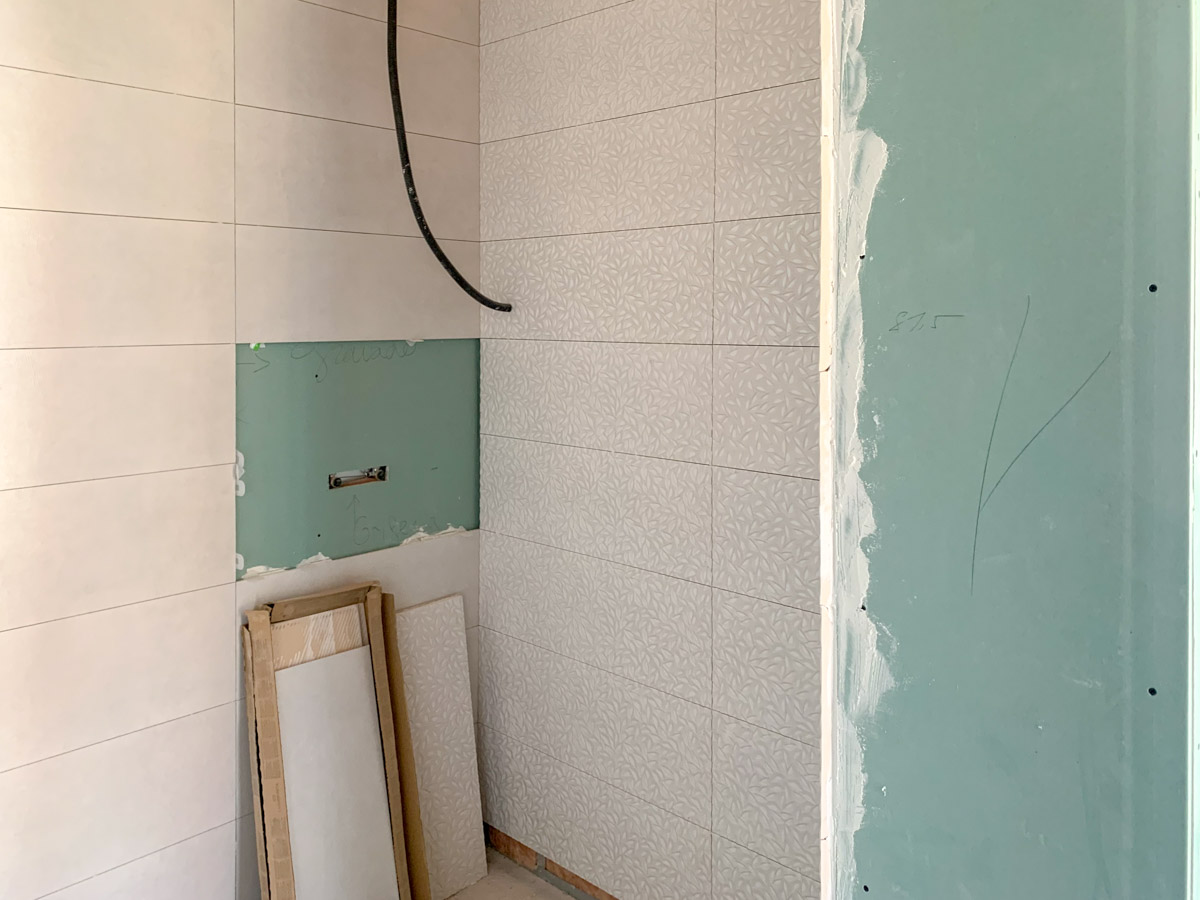 The coatings are the make-up of the homes, and in this case in the main bathroom a textured porcelain tile is combined with a smooth porcelain tile, follow the progress of the blog to see the final result.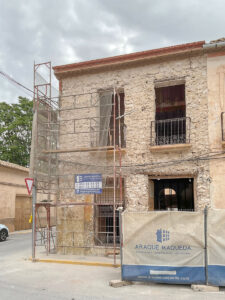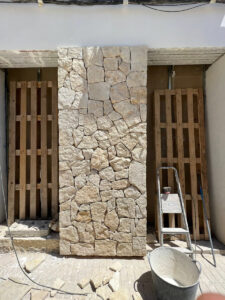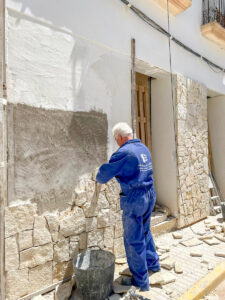 Seeking a balance between traditional construction and the Mediterranean architecture of the Alicante area, a masonry façade is projected with natural stone extracted from quarries in the area.
Renders always represent an approach between the digital and the real. The image of the interior patio of the house is presented as a meeting and social interaction space, where you can share moments with family and friends. On the other hand, it has bioclimatic strategies such as the introduction of vegetation in a part of the interior façade, improving environmental quality, reducing environmental noise, improving the hygrothermal behavior of the house.
The interior design seeks to generate visual harmony and tranquility, combining white colors with natural woods of different textures. Generating an attractive, clean space without spatial protuberances. In simplicity lies perfection. The existing beams are maintained, giving rise to spaces with very high heights, generating amplitude.
The main bathroom is integrated into the main bedroom, without doors, open space with full communication.
The same design line is followed in the interior, light colors combined with textured wood in flooring and furniture.
Would you like to revitalize a home?